CREE Akarui LED Headlight Conversion Kit
If you are looking for the most quality and reliable LED conversion kit for your car, truck or SUV, consider Akarui LED kit as a good option. It will improve visibility at night and will not blind the oncoming traffic, as the bulbs feature adjustable bulb pattern. Many US car magazines and blogs have included this headlight conversion kit to the list of favorites, Top-10 and Best Buys.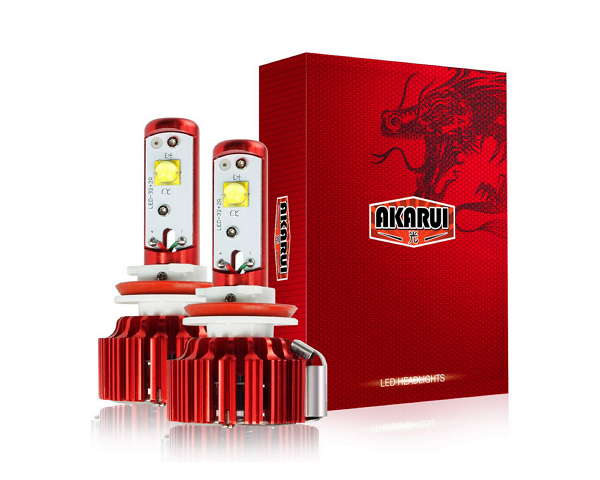 Akarui headlight conversion kit is available in the most popular bulb sizes, so pick the one that will better work on your car, truck or SUV!
Technical Characteristics
Top light output: 4800 Lm per bulb;
+260% brighter, than your factory headlight bulbs;
Quality CREE XHP70 LED chips with 55W per unit;
Completely aluminum housing that will not rust or corrode;
Powerful Dual TurboCool fan (15,000 RPM) ensures adequate bulbs cooling;
Akarui LED bulbs are covered with a limited 2-year warranty;
Akarui ensures lifetime support to their customers;
Some newer vehicles may require installation additional load resistors (sold separately).
Here is what you get when you are buying CREE Akarui LED conversion kit:
2 bulbs;
2 LED drivers;
all necessary wiring;
installation instructions;
a warranty sheet.
Bulb Sizes
If you own a US-built car, truck or SUV, you will definitely find the LED conversion kit of the proper bulb size in the Akarui inventory. Just make sure to check, what bulbs are required for the year, make and model of your vehicle and order your perfect LED conversion kit. If you are not sure, what bulb size you need, refer to the Sylvania bulb checker to double check this information.
CREE Akarui LED conversion kits
| Single Beam | Dual Beam |
| --- | --- |
| H1 | 9003 / H4 |
| H3 | 9004 / HB1 |
| H7 | 9005 / HB3 |
| H8 | 9006 / HB4 |
| H9 | 9007 / HB5 |
| H11 | 9008 / H13 |
| 5202 | 9012 / HIR2 |
| 880 | 9012 / HIR2 |
Features
Akarui has taken care of the safety for you, so your new Akarui bulbs will not blind the oncoming traffic by producing that dangerous glare. This becomes possible due to the adjustable beam pattern these LED bulbs feature.
In average, CREE Akarui LEDs last around 30.000 hours, while the top halogen headlight bulbs normally operate within 1.800 – 2.000 hours. This means years of service without having to buy new bulbs and having to get them replaced frequently.
Akarui LED headlight bulbs are solid because they do not contain fragile components (no tungsten, glass, etc.). This makes Akarui LEDs resistant to vibration, moisture, temperature changes, etc.
Each CREE Akarui bulb contains a dual mini fan, that operates as cooling units. They are powerful enough (15.000 RPM) to eliminate excessive heat produced by the LED itself. These fans are tiny enough to make the bulb compatible with the majority of headlight duct covers.
Note, that some newer vehicles might require installation of additional load resistors for flawless LED operation. These resistors should be purchased separately.